Top Strategic Technology Trends for 2023: Report from Gartner®
Top Strategic Technology Trends for 2023: Report from Gartner®
Gartner research explores opportunities for leaders to look beyond reducing costs to new forms of operational efficiency. With advancements in technology and a shift toward a hybrid work culture, all leaders have the opportunity to accelerate digital transformation. These advancements come alongside increased focus on environmental impact.
Gartner research investigates ten strategic technology trends and recommends actions to address these.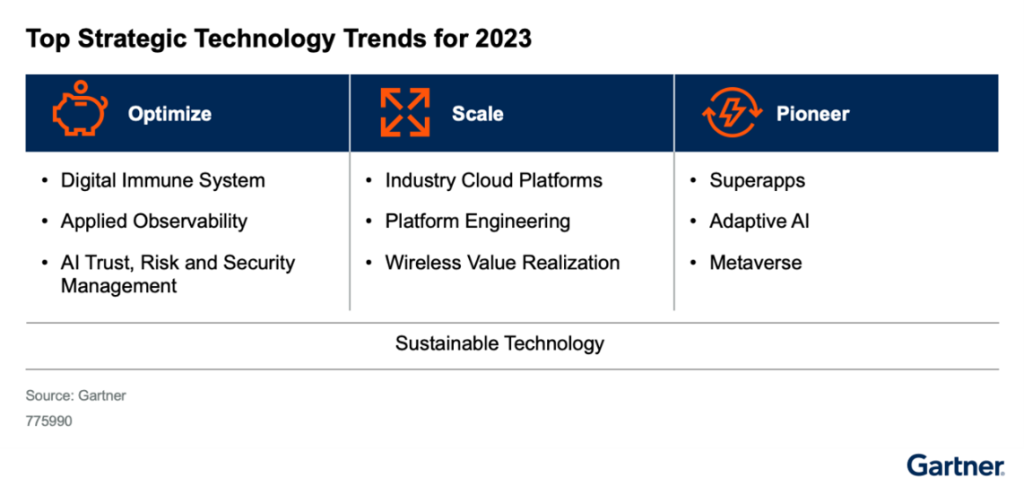 The report findings examine:
1. Optimize: Digital Immune System
"Many IT organizations can't fulfill the expectations of the business because teams lack the skills to:
Build robust and resilient applications
Deal with unexpected failures or events
Deliver value faster than they create technical debt
This exposes organizations to operational and business risks when applications and products or services that depend on them are severely compromised, or stop working altogether. CIOs are looking for new practices and approaches that their teams can adopt to mitigate these risks, deliver high business value and increase customer satisfaction. A digital immune system provides such a roadmap.
The digital immune system approach includes practices and technologies for software design, development, automation, operation and analytics. It uses these to create a superior customer and user experience that won't be compromised by defects or system failures that impact business performance. Digital immune systems interlink practices from the areas of observability, software testing, chaos engineering, site reliability engineering and supply chain security of applications."
2. Optimize: Applied Observability
"Observable data reflects the digitized artifacts (sometimes called the footprints, traces or "exhaust" that appear when any stakeholder takes any kind of action). Examples of observable "raw data" (or digital artifacts) include logs, traces, API calls, dwell time, downloads and file transfers. Applied observability uses these observable artifacts in a highly orchestrated and integrated approach to enable decision making in a new way across many levels of the organization — mainly on functional, application and infrastructure levels.
The value of applied observability comes from the fact that the data is all sourced from confirmed stakeholder actions, rather than intentions, obligations or promises. It's not a forecast or prediction. The observable data is cataloged, engineered and layered with semantic understanding, which results in both active and passive metadata. The architected use of this metadata drives better, faster and more effective business and IT decisions."
3. Optimize: AI Trust, Risk and Security Management
"A Gartner survey found that organizations that actively managed AI risk, privacy and security achieved improved AI project results. More of their AI projects moved from proof of concept status into production and achieved more business value than did AI projects in organizations that didn't actively manage these functions.
Conventional data and application security best practices are foundational and mandatory, but don't address the new trust, risk, privacy, and security management issues that AI raises. AI regulations are proliferating worldwide, mandating auditable practices that ensure trust, transparency, and customer protection.
Organizations must implement new capabilities to ensure model reliability, trustworthiness, security, and data protection. AI trust, risk and security management requires participants from different units, (e.g., AI, security, compliance, and operations) to work together to implement new measures."
4. Scale: Industry Cloud Platforms
"Industry cloud platforms offer a combination of Software as a Service (SaaS), platform as a service (PaaS) and infrastructure as a service (IaaS) — along with tailored, industry-specific functionality to address specific vertical requirements. Industry cloud platforms use modularity and composability to offer the agility that industries need to respond to continuous disruptions.
Industry cloud platforms elevate the conversation between cloud consumers and cloud providers from cloud technology to specific industry business use cases. They do so not as predefined, one-off, vertical SaaS solutions, but rather as agile platforms supported by a portfolio of industry-specific packaged business capabilities. In effect, they turn a cloud platform into a business platform and expand a technology innovation tool into one that also serves as a business innovation tool.
Industry clouds use composable modularity to assemble vertical propositions that offer:
More adaptability than most of today's SaaS applications
More industry-specific business functionality in the form of reusable business capabilities, empowering faster innovation and accelerating time to value
More potential to use innovation in one industry for building cross-industry solutions"
5. Scale: Platform Engineering
"Product teams spend an inordinate amount of time and effort designing, building and maintaining operational development environments. This affects productivity and often leads to redundancy when different product teams — working in isolation independently — build similar capabilities. Moreover, software developers aren't often experts in the services that underlie the applications, so they can't manage those services effectively.
Platform engineering empowers product teams by providing a self-service, curated set of tools, capabilities and processes that together offer a frictionless experience for developers. The platform should include everything that the developer needs, and present it in whatever manner fits best with the developer's workflow established for the software engineering organization."
6. Scale: Wireless Value Realization
"Realizing value from wireless technologies extends beyond traditional communications. While no single wireless technology will dominate, wireless technologies will be used in new ways. Wireless endpoints will be able to sense, e-charge, locate and track people and things beyond the traditional endpoint communication capabilities. The roadmaps for the five key wireless technologies include new capabilities in areas, such as location tracking, energy harvesting and sensing.
This innovation is being driven not only by new applications, but also organizational changes, as responsibility for enterprise networks continues to converge. In the 2021 Gartner IT/OT Alignment and Integration survey, over 75% of surveyed business and technology leaders (including managers) said that CIOs were responsible for IT and operational technology decisions.15 Facility management assets, such as cyber-physical systems, are continuing to converge with IT and are being added to the IT infrastructure."
7. Pioneer: Superapps
"A superapp is an app that provides customers, partners or employees with a set of core features and access to independently created miniapps. A superapp is more than just a composite mobile app or a web portal and marketplace. It's a platform for delivering a composable miniapps ecosystem. Superapps enable the user to activate the micro/miniapp within it, not from a separate app catalog, such as AppExchange. This enables users to activate personalized app experiences.
"Organizations can create superapps to consolidate multiple mobile apps or related services to reduce friction in the user experience, such as context switching, and development effort. Superapps can help achieve economies of scale and exploit the network effect of a larger user base and multiple providers. They can provide a more engaging experience for customers, partners and employees."
8. Pioneer: Adaptive AI
"Flexibility and adaptability are vital. Reengineering systems has significant impacts on employees, businesses and technology partners. Improving engineering capabilities to increase resilience to change is a continuous process for any organization. Using adaptive AI can be a critical success factor in realizing organizational agility. For many organizations, these changes demand resilience-by-design and adaptive-by-definition.
Adaptive AI systems continuously retrain models and learn within runtime and development environments, based on applying graph analytics. This enables AI models, and the applications relying on them, to adapt more quickly to changes in new, real-world circumstances that weren't foreseen during development."
9. Pioneer: Metaverse
"Gartner defines a metaverse as "a collective virtual 3D shared space, created by the convergence of virtually enhanced physical and digital reality. A metaverse is persistent, providing enhanced immersive experiences." Gartner expects that a complete metaverse will be device-independent and won't be owned by a single vendor: It will have a virtual economy of itself, enabled by digital currencies and non-fungible tokens (NFTs).
Three characteristics make up a complete metaverse:
Transport: The ability to become immersed in a virtual world. That world may be a 3D simulation and/or in virtual reality.
Transform: The act of bringing digital to the physical world. This enables the user to access real-time information, collaboration, and experiences in the physical world through augmented reality (AR) capabilities.
Transact: The economic foundation of the metaverse through the use of cryptocurrency, NFTs and blockchain."
10. Underpinning: Sustainable Technology
"To enhance sustainability, organizations need a new sustainable technology framework. IT leaders and other executives must:
Make IT more sustainable
Use IT to help the enterprise become more sustainable
Use IT to help customers become more sustainable
Sustainable technology is a framework of solutions that enable ESG outcomes:
Environmental technologies: These mitigate and adapt to risks in the natural world.
Social technologies: These increase human well-being and prosperity.
Governance technologies: These strengthen the rule of law, business conduct and capacity building."
Disclaimer: Gartner does not endorse any vendor, product or service depicted in its research publications, and does not advise technology users to select only those vendors with the highest ratings or other designation. Gartner research publications consist of the opinions of Gartner's research organization and should not be construed as statements of fact. Gartner disclaims all warranties, express or implied, with respect to this research, including any warranties of merchantability or fitness for a particular purpose. GARTNER is a registered trademark and service mark of Gartner, Inc. and/or its affiliates in the U.S. and internationally and is used herein with permission. All rights reserved. This graphic was published by Gartner, Inc. as part of a larger research document and should be evaluated in the context of the entire document. The Gartner document is available upon request from the Gartner website. Gartner, Top Strategic Technology Trends for 2023, Gilbert van der Heiden, David Groombridge, Bart Willemsen, Arun Chandrasekaran, 17 October 2022
---
About the Center of Expertise
Microsoft's Public Sector Center of Expertise brings together thought leadership and research relating to digital transformation in the public sector. The Center of Expertise highlights the efforts and success stories of public servants around the globe, while fostering a community of decision makers with a variety of resources from podcasts and webinars to white papers and new research. Join us as we discover and share the learnings and achievements of public sector communities.
Questions or suggestions?