Report from Gartner®: Predicts 2023
Justice and Public Safety seizes new opportunities to address evolving demands
Report from Gartner®: Predicts 2023: Justice and Public Safety seizes new opportunities to address evolving demands
Gartner research finds that Justice and Public Safety (J&PS) organizations have "progressed the foundational elements of digital transformation for a number of years by investing in high-availability networks, IP-based systems and analytics capabilities. This work has led J&PS to a precipice of digital transformation. This will not only change the means by which the public interacts with these organizations, but also will fundamentally impact the productivity and effectiveness of the resources these organizations bring to bear."
"The evolving demands on J&PS organizations to meet mission objectives requires CIOs and other executives to reimagine their service delivery, engagement and training models. Building on investments in data, technology and people will enable these organizations to seize new opportunities to address the imminent challenges they face."
Figure 1 provides an overview of how Gartner analysts predict that Public Safety and Justice organizations will use these capabilities to address the challenges they face.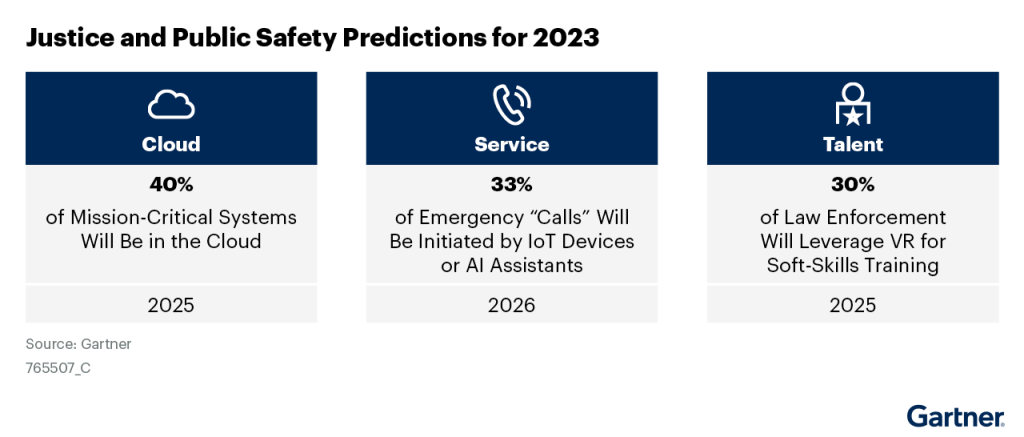 Strategic Planning Assumption: By 2025, over 40% of justice and public safety organizations will have one or more mission-critical systems in the cloud.
Gartner research finds that Public Safety and Justice organizations are facing challenges with "aging, legacy systems that are struggling to keep up with changing regulatory demand paired with struggles to retain and attract networking, data center and cybersecurity talent."
However, investments "in highly available networking capabilities and expanded SaaS, PaaS and IaaS offerings by primary solutions providers present an opportunity to address the challenges. As a result, Public Safety and Justice organizations are adopting cloud solutions for both primary and secondary systems more frequently than ever before."
Key findings and implications identified in the Gartner research include:
"Explosion of digital evidence, largely driven by video, is outstripping on-premises storage and processing capabilities, which increasingly requires the elasticity of cloud services."
"J&PS's centralized capabilities of records, case, offender and digital evidence management systems lend themselves to the benefits of cloud. Even computer-aided dispatch is now a viable SaaS product type. With the resilience of cloud services becoming better understood… the conservative view of on-premises being more reliable is shifting."
Recommendations outlined within the research include:
"Adapt procurement processes, such as framework agreements, that support the use of cloud by creating contract terms aligned with the shift in responsibilities to cloud service vendors."
"Prepare for budget adjustments by planning for the increased operational expenses of a subscription model and identifying trade-offs such as reduced hardware technology refresh costs."
Strategic Planning Assumption: By 2026, over 33% of emergency "calls" will be initiated by IoT devices or AI assistants.
"A convergence of IoT [Internet of Things], data analytics, location intelligence and AI is creating a greater number of inputs and solutions for data-driven decision making in Justice and Public Safety organizations. Additionally, advances in consumer electronics products leveraging similar technologies are creating comparable solutions for the public."
"As these two events continue to grow, J&PS [Justice and Public Safety] organizations should anticipate more direct interface from these types of solutions with their core systems. One key area — public safety answering points — will likely be impacted significantly as solutions using these technologies start to generate automated emergency and nonemergency calls into dispatch systems."
Key findings and implications identified in the Gartner research include:
"Standards, requirements and emerging technology have been defined and are in use that automatically provide emergency notification to PSAPs [public safety answering points]."
"Automated communications to PSAPs provide information more quickly than obtaining key information from a voice call."
"During the first few minutes of an emergency voice call to a PSAP, dispatchers work to gather basic and critical information such as identification, nature of emergency and location. Automated contact can provide key information instantly, saving time and speeding dispatch of necessary services."
Recommendations include:
"Adapt to the changing nature of PSAP communications by reviewing and updating procedures and training."
"Pilot automated PSAP communications by first implementing nonemergency IoT notifications and analytics as a lower-risk learning process."
Strategic Planning Assumption: By 2025, over 30% of law enforcement will leverage Virtual Reality (VR) for training related to developing soft skills for interactions with vulnerable people.
Gartner research identifies heightened expectations of "cross-disciplinary response to incidents involving vulnerable people. Accomplishing this requires that J&PS [Justice and Public Safety] organizations work more closely with colleagues in health and human services and other disciplines; this includes sharing data and developing common skill sets."
"Adding more training for J&PS [Justice and Public Safety] staff to develop the common skills while maintaining service levels is difficult. Therefore, it is important that the training offered is the most effective and leads to the highest levels of retention possible. VR training is showing these types of benefits in early studies."
Key findings and implications include:
"VR provides opportunities to replicate real-world experiences in training that would otherwise be extremely difficult to provide to justice and public-safety learners."
"VR training is more impactful for many training situations, allowing the learner to acquire skills faster and retain the information longer."
"Collaboration for training between human resources, IT and executive leadership will be more important than ever to ensure that operations needs are met."
Recommendations include:
"Implement an immersive technologies center of excellence to start identifying operating model changes that will be necessary across the organization to scale adoption."
"Engage with operational leadership and human resources to identify opportunities to experiment with VR-based training by aligning training plans with vendor roadmaps."
Gartner, Predicts 2023: Justice and Public Safety Seizes New Opportunities to Address Evolving Demands, Bill Finnerty, Michael Brown, 23 January 2023. GARTNER is a registered trademark and service mark of Gartner, Inc. and/or its affiliates in the U.S. and internationally and is used herein with permission. All rights reserved.
---
To find out more:
About the Center of Expertise
Microsoft's Public Sector Center of Expertise brings together thought leadership and research relating to digital transformation in the public sector. The Center of Expertise highlights the efforts and success stories of public servants around the globe, while fostering a community of decision makers with a variety of resources from podcasts and webinars to white papers and new research. Join us as we discover and share the learnings and achievements of public sector communities.
Questions or suggestions?